Motorola unveils four Moto G7 phones: Plus, vanilla, Power and Play
Author: Kara Saunders

Feb 10, 2019,
While most smartphone makes are struggling over the decision to go with a notch or bezel (or a punch-hole design), Motorola threw its hands up in the air and said 'Screw it, we're rolling with both!' Meet the Moto G7, the newest iteration of Motorola's relatively affordable G series. The Moto G7 and G7 Plus come with waterdrop notch while the G7 Power and G7 Play come with a wide notch.
The Moto G7 Power.
When it comes to the Moto G7 Plus, the smartphone has a similar display, RAM, storage and battery as the G7. The latest range includes four new smartphones - Moto G7, Moto G7 Plus, Moto G7 Power and Moto G7 Play.
Still, the Motorola G7 Power doesn't compromise for speed. It is powered by Snapdragon 632 processor with 2GB RAM and 32GB storage that is expandable up to 128GB.
A notched display rather than a tear-drop display like the standard G7 and G7 Plus is present for the G7 Play. The rear camera on the device is a 13MP sensor with an f/2.0 aperture while the front camera is an 8MP sensor with an f/2.2 aperture. The Moto G7 comes with 64GB on internal storage, which actually isn't bad if you mostly use cloud services like Google Photos for storing your photos and music streaming services.
Finally, the Moto G7 Play, the most low-cost model among the latest offerings, flaunts a 5.7-inch Max Vision display with a HD+ resolution of 1512 x 720 pixels.
AI-powered features like Smart Composition and Auto-Smile capture will help you get the best shot.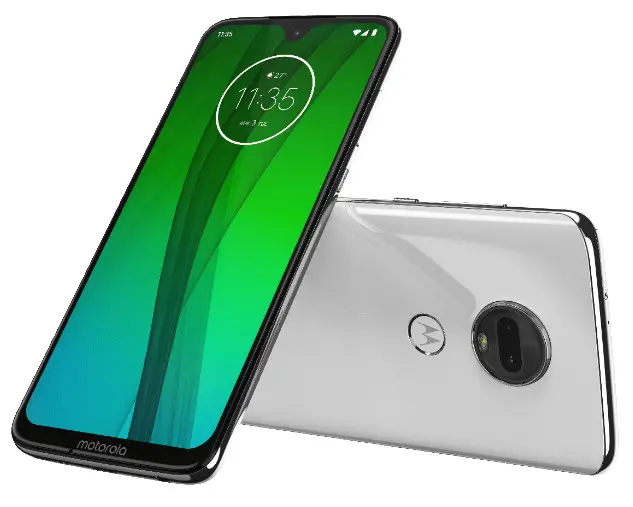 United States The new moto g7 will be released in the USA starting this spring and will be universally unlocked at Best Buy, B&H Photo, Walmart and on Amazon.com with subsequent availability at Google Fi, Republic Wireless and Ting.
About camera and imaging, the Moto G7 will sport a 12MP primary sensor with an f/1.8 lens and 5MP secondary sensor with an f/2.2 lens. The device runs on Android 9.0 Pie.
It doesn't deliver the premium finishes you'll find on the G7 and G7 Plus, nor the battery capacity of the G7 Power, but it offers the same chipset as the G7, it runs on Android Pie and it has a large screen in a slim form factor. In addition, the phone will have a 27-watt fast charging that will give you 12 hours of power with just 15 minutes of charge. It sports a 6.2-inch 720p screen with a notch sized between the other two G7 phones, 3GB of RAM, 32GB of storage, and a 12-megapixel rear camera.
Considering that even most flagship phones today top out with battery capacities around 4,000 mAh and tend to feature much more power hungry chips and features, I'm excited to test the G7 Power's longevity myself to see how long it can last.
Finally, the Moto G7 Play offers a smaller 5.7-inch Max Vision HD+ display and compact body. Moto G7 Power will also feature a 6.2-inches display that uses FHD+ technology.
This Plus device has a Qualcomm Snapdragon 636 SoC, which is ever-so-slightly different from the Snapdragon 632 (with the same amount of RAM at 4GB). The top-end Moto G7 gets a Gorilla Glass back, the Power gets a clear plastic back with an undercoat of color-sort of like a faux-glass back-and the Moto G7 Play gets regular old opaque plastic. All the G7s have plastic sides that get various treatments, working up to a faux-metal paint on the Moto G7. It comes in Deep Indigo and Viva Red colours. The Moto G7 will be available to purchase at $299, and the Moto G7 Plus will arrive in Europe priced at €299.
---
---